Mobile home rental Manche Normandie
Compact Studio 1 bedroom – 18m² – France

Studio Compact 1 bedroom – 18m² – arrival Friday July/August

Studio Compact 1 bedroom – 18m² – arrival Sunday July/August

Essential 2 bedrooms – 26m

Essential 2 rooms – 26m² – arrival Sunday July/August

Grand Confort 2 bedrooms – 30m

Grand Confort 2 rooms – 30m² – Sunday arrival July/August

Grand Confort 2 bedrooms – 30m² – Arrival Friday July/August

Space 2 rooms – 33m² – arrival Sunday July/August

Access 2 bedroom terrace – 33m² – PMR Lodge

Sea view 2 bedrooms covered terrace – 25m

Sea view 2 bedrooms covered terrace – 25m² – arrival sunday july/august

Mobil-home Sea View Comfort 2 bedrooms – 25m² + covered terrace

Optimal 3 bedrooms – 36m ².

Optimal 3 bedrooms – 36m² – arrival sunday july/august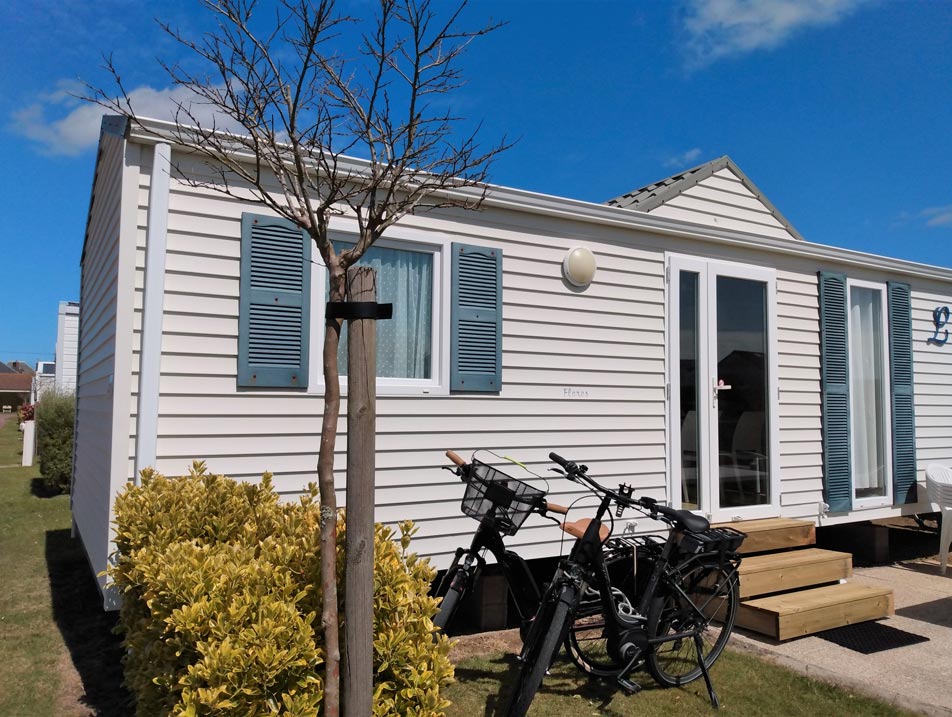 8 mobile homes for rent in Manche
Need to recharge your batteries, a holiday to discover new horizons steeped in history, in search of authenticity, close proximity to nature and the maritime environment? Make a stopover at the 4-star campsite La Gallouette in Saint-Vaast-la-Hougue near Cherbourg en Cotentin in the Manche (50) for a weekend or a longer stay in a mobile home in the North-East of the Cotentin peninsula! To spend a campsite holiday in Normandy where comfort, relaxation, calm and discovery are the order of the day, book the mobile home rental in the Cotentin region that suits you! Looking to book a mobile home Cotentin, mobile home rental Manche, mobile home Normandy?
With 1, 2 or 3 bedrooms, each accommodation combines all the assets to stay by the sea in a tree-lined and flowery setting. All the mobile home rentals of your campsite in the Manche consist of a lounge area with television, living room with equipped kitchen, shower room with shower, separate toilet and a garden lounge with barbecue (2 and 3 bedroom mobile homes) to enjoy the long summer evenings! If you wish, you have 30mn/day WiFi access (or more with extra charge) or 4G coverage throughout the campsite. Choosing to stay in a campsite in a holiday rental by the sea with a heated swimming pool (from 15/05 to 15/09), means combining a change of scenery, tranquillity and comfort in a privileged setting. See also: chalet rental Normandy plot rental at Saint Vaast la Hougue campsite.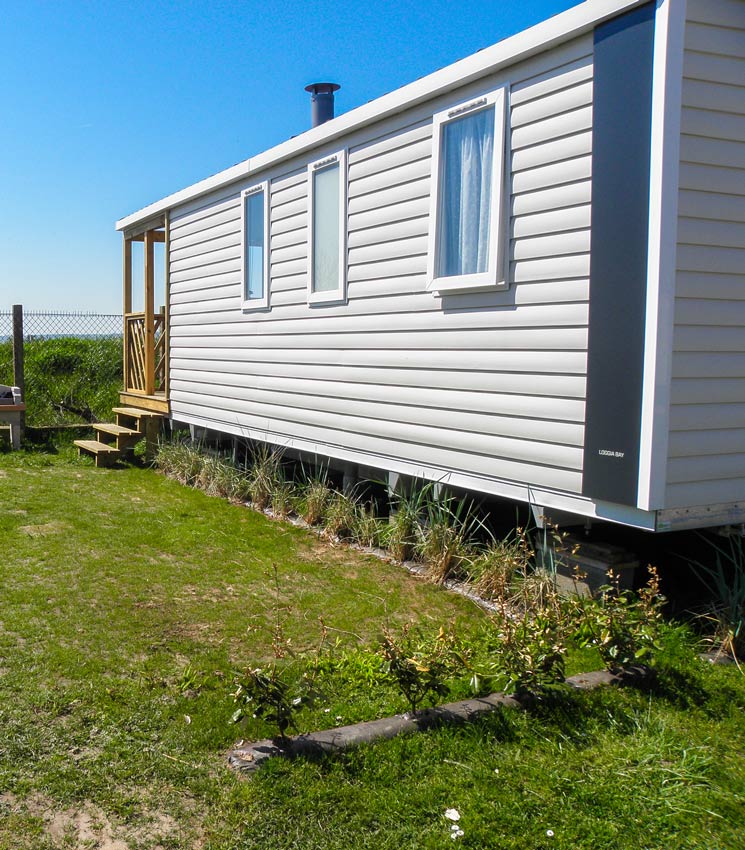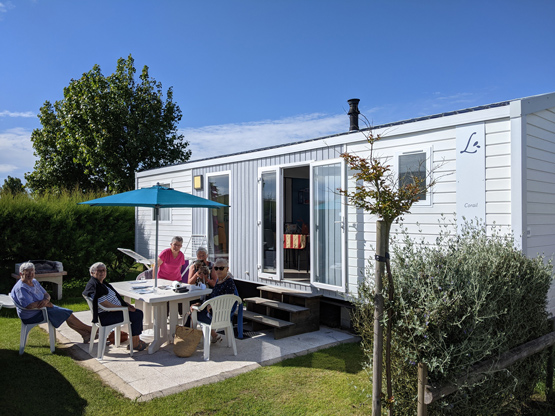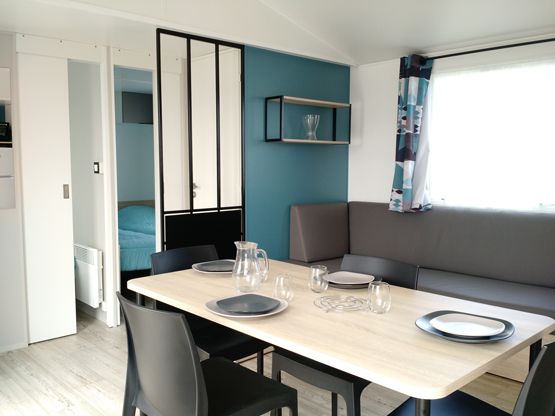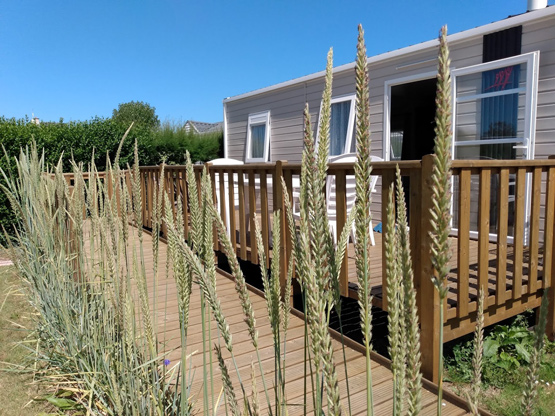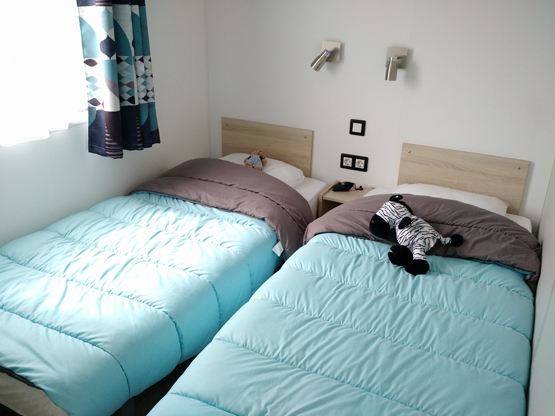 Holiday rental in campsite, mobile home with sea view in Normandy!
Discover the Mediterranean mobile home of the range Vue Mer Confort at the campsite La Gallouette in Saint Vaast la Hougue for even more serene holidays.
Just like the mobile homes in the Vue Mer range, this new accommodation will seduce you with its postcard-like viewdecor. The mobile home's pleasant living area opens onto a built-in terrace and offers a privileged view of the sea and the Hougue tower, in the bay of Morsalines.
And for practicality, choose the mobile home in the Vue Mer Confort category equipped with a dishwasher in addition. The furnished mobile home rental you need for a stress-free holiday! This accommodation is equipped with a kitchen with dishwasher, a bathroom with sink and shower and two bedrooms (with double bed and stork bed). The garden shed to store your bikes or your beach or fishing equipment!
Here, everything is done to make your stay most relaxing. This holiday rental and its location will totally seduce you and you will fully enjoy your relaxing stay, in campsite, by the sea.